Throughout his epigrams, the Latin poet Martial expresses nostalgia for his hometown Bilbilis.1 Born between 39 and 41 A.D. Martial grew up in Bilbilis, which in the ancient world was a municipium in Hispania Tarraconensis, near modern Saragossa, Spain.2 Today, Calatayud, "located in a beautiful, green, almost lush area" is the closest existing town to ancient Bilbilis.3 Although he lived in a rural area, Martial's parents--thought to have been Fronto and Flacilla--were Roman citizens and could afford to give him a standard education, including knowledge of Greek and an acquaintance with Homer and Virgil.4 They named him Marcus Valerius Martialis after his birth month March.5
Martial's move to Rome shaped the nature of his poetry, the bulk of which satirizes city life. Goertz explains, "As charming as Bilbilis may have been, Rome no doubt radiated in antiquity the same allure which today characterizes New York or San Francisco". 6 Martial left Bilbilis for Rome in his early twenties (63-64 A.D.) and remained there for the next 34 to 35 years.7 He arrived when Rome was under the emperor Nero, who gave generously to the arts and to Martial's new friends and prospective supporters, Lucan and Seneca.8 Unfortunately for Martial, Lucan and all the Senecas died about one year after his arrival in Rome as a result of the Piso rebellion in 65.9 Martial disliked the idea of becoming a lawyer or school teacher; and consequently, it is "small wonder that Martial's early years in Rome were lean ones".10 According to Matthews, "He never attracted the spectacular patronage afforded to Horace or Virgil. He had instead the ordinary client's role: be part of some patron's entourage, witness documents, come to dinner and often drink lesser wine than was served at the head table, provide witty table talk, be a bought but poorly paid companion".11 As a result, Martial centers many of his epigrams around the insolent behavior of the rich and the treatment of their clients. Bovie writes, "The patron-client system affected Martial's works as it affected all the literature of the day, and while he was a cynical and astute observer of Roman society and its ills, Martial's art was tailored to flatter his patrons and to assure his protection at imperial court".12
Martial did live as a client, but his poverty should not be exaggerated. When Martial first moved to Rome, he lived in a rented attic apartment up three flights of stairs. However, he later also had a small house in the country near Nomentum that Emperor Domitian gave him,13 and Sullivan estimates that Martial had about twenty slaves divided between his apartment and country home.14 In addition, Domitian granted Martial equestrian status and gave him a town house in Rome.15 It seems that Martial scraped by during his early years in the city, but slowly gained favor, and thus money, by ingratiating himself with the emperors of the Flavian Dynasty.
Scholars know little about the twenty years between Martial's arrival in Rome and the publication of his first epigrams the liber spectaculorum in 84 or 85.16 Martial wrote the liber spectaculorum ("The book of games") in honor of the Coliseum's dedication in 80 A.D.17 After this success, Martial wrote two books, Xenia ("Gifts for guests") and Apophoreta ("Gifts for guests to take home"), which contained light, short poems that he intended for gift-givers to attach to their gifts during the Saturnalia.18 These were later appended to his collection of epigrams as Books XIII and XIV.19 Though not as accomplished as his later works, they earned Martial literary fame and spurred him on to publish Books I and II in 85 or 86. Martial released Book III in 87 or 88 while he was in France "on some semi-official tour of duty".20 The twelve books for which Martial is now famous, I - XII, appeared between 86 and 102.21
Though Martial romanticized his eventual return to Bilbilis throughout his body of epigrams, his actual retirement there proved less than satisfactory for Martial. Tired of city life and patronage duties, Martial left Rome and returned to Spain around 98. The provinciality and lack of cosmopolitan crowds seemed to have depressed Martial, and regret over leaving Rome perhaps affected his health and hastened his death," which came some four or five years thereafter, but no later than 104 A.D.22 As Bovie suggests, "Martial was better off in Rome than in Bilbilis because in Rome he found the villains and fools his art knew how to mock. In the metropolis, too, he discovered a host of readers and the two dozen friends a man is usually entitled to have. When he went back to Bilbilis and dropped out of sight, it was as one who could well afford to bask in the glow of his popularity and take pride in the laughter he had aroused" (2).23
Judging from Martial's works and the works of his contemporaries (Tacitus, Juvenal, Pliny), the literary atmosphere in Martial's Rome did not focus on celebrating Rome's past as Virgil did in the Aeneid and as Horace did by adapting Greek metrical and rhetorical strategies for Latin use; rather, Martial and his contemporaries illuminated present, daily life with their art.24 By the time Martial reached adulthood, empire had replaced the republic, and "the ever-increasing speed of social change rendered compensatory nostalgias and conservatisms sentimental".25 "Wit, satire, and deft adjustments to realities were required, not imagination and grand poetic designs".26 Matthews explains, "Martial's moral moment is the present, and his moral yardstick the relationship between host and guest. Drama for Martial occurs not in the Forum or on the temple steps, but on the doorsill, at the table, in conversation, in bed".27 Instead of launching imaginative journeys into epic unreality, Martial hands down verdicts on real life.28
Epigrams take their name from the Greek word <insert epigramma in Greek symbols> meaning "things written on".29 As early as the fifth century B.C., the Ancient Greeks inscribed them on graves, monuments, buildings, works of art, and votive offerings to explain or commemorate the person or object they described.30 Simonides composed this epigram: "Stranger passing by, tell the men of Sparta / we who lie here died obeying orders".31
Because of the general brevity of the inscriptions and their easily remembered verse, the Alexandrian Greeks began to broaden the meaning of the term "epigramma" to describe a host of short poems that covered events, occasions, people both living and dead, both real and fictitious. 32 Hellenistic Greeks extended the scope of epigram to include such topics as love, sex, and drinking.33 The Romans used epigrams to comment on nearly every aspect of life; but whereas Greek epigrams were light and often tender, the Romans began to wield the epigram as an invective tool, satirizing the world and its human inhabitants.34 It was this satirical quality of the poetry, particularly in Martial, that caused "epigram" in English to mean not only an epigraph or sepulchral inscription, but also a short, witty poem.35 In form, the epigram was "a relatively short poem which led rapidly to a sharp either poignant or telling, conclusion".36
In structure, Greek epigrams were typically written in one to five elegiac couplets though hendecasyllables and scazons remained popular with Romans.37 An exception to this, the Hellenistic Greeks usually wrote four line epigrams (i.e. two couplets). The average length of Martial's epigrams is about 7.4 lines in the twelve books that make up the core of Martial's work, but is 6.2 lines, including all 14 books in the calculation.38 Romans did not tamper much with Greek structure of epigram, but did use a significantly different type of language. Sullivan explains, "[Martial] freely introduces neologisms, colloquialisms and obscenities, Greek vocabulary, even Spanish words and place names . . . Like Catullus . . ., [Martial] roughens his poetic texture by deliberately inserting rugged lines into the smooth flow of his verse and by the playful employment of rhymes and metrical anomalies".39
In his surviving 14 books (1561 poems), Martial mastered the epigram and made it his own. In doing so, he solidified the form that literature texts still refer to as epigram. Martial has influenced such great English writers as Spenser, Milton, Swift, Jonson, Byron, and Pope.40 Under Martial, what had been a light, but often sentimental poetic form, became a satirical tool used for both criticism and entertainment. As Goertz suggests, "The satirical possibilities which this new ingredient facilitated were exploited more than anyone else by Martial, who gave the epigram a shape and flavor which it has had ever since".41
In his epigrams, Martial generally maintains the brevity of previous Greek and Roman models, writing epigrams usually ranging from two lines to one page, but occasionally he writes lengthier poems. Also, like his predecessors, most often Martial uses elegiac couplets in his epigrams; less often, he uses various iambic rhythms and hexameters.42
Martial's epigrams explore a range of topics as large as life itself: patrons, clients, emperors, doctors, dinners, moochers, poisoners, poems, poets, plagiarists, prostitutes, house fires, house wives, adulterous wives, murderous husbands, false teeth, dyed beards, dyed hair, no hair, sex, lies, slaves, food, clothes, money. Martial, like Catullus, departs from the subject matter of epic--gods and goddesses, heroes and quests--and focuses on earthly, sometimes dirty, always human, everyday life.43 Matthews writes, "Vividly recognizable fellow humans trudge through the summer dust and wet winter cold to the baths, to dinners, to trysts, to lawsuits . . . [Martial] has only rhetorical interest in the gods; all the characters who matter in Martial can and will die".44 Bovie explains that Martial "steers clear of anything large, long, or grand. In a sense, then, Martial's whole art is a way of confining reality to man's perception of it, of cutting experience down to size".45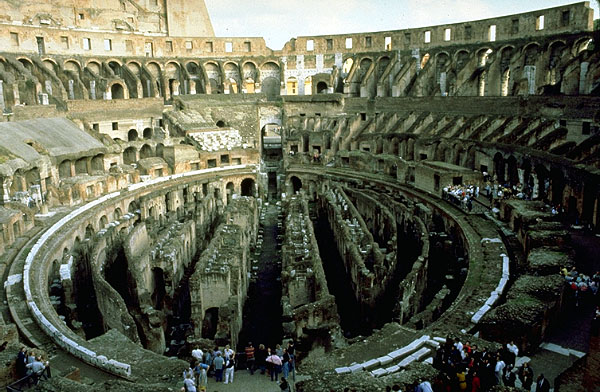 Accordingly, Martial embodies his purpose in his technique and in his language. In the same way that Martial focuses on less-grand, smaller, human subjects, he writes short poems and uses ordinary language. In English, the word "epic" has come to mean "huge, long." Martial avoids epic and turns instead to epigram, a form characterized by its brevity. Martial depends upon concise, precise language.46 Martial sets up his scene quickly, and then turns it on its head. If he uses elevated language, he does so only to create a serious scene so that he can undercut that scene with the most basic, sometimes base turn. Martial functions much the same way that Jay Leno does in his stand-up comedy routine, which always begins The Tonight Show. Leno starts his monologue in a serious vein: "Bill Clinton's in the news today . . ." However, much of the effect lies in the fact that the audience knows that this is only a sham. They await the turn that will come only a few seconds later: "he told the girls if they ever got lonely again while Hillary was away, they were welcome to come over . . . " In Book XII, epigram 77, Martial first describes a man ardently praying in the temple to Jupiter using language similar to that of epic: "while kneeling always in the lowest position, greeting Jove with many prayers in the Temple . . ." Immediately thereafter, Martial pulls the rug out from under this scenario: "he farted." Goertz remarks, "In bringing about this effect, Martial is a consummate master of language. The first part of the poem is often a straightforward statement, ingenuous and dissembling, followed by a quick turnabout".47
Though his weapon is humor, Martial's purpose is serious. He has committed himself to expressing realism through his art. Though at times, he flatters for money, he never permanently abandons his style or his focus. Goertz asserts, "If Martial's intention was to record the whole spectrum of life, he certainly succeeded".48 In attempting to portray life as it is, Martial often writes what many people would call "obscene" poetry; others even call some of this poetry "pornographic." In these poems, Martial candidly discusses flatulation, urination, feces, genitalia, etc. (Martial, of course, would not use such scientific terms). Martial does not shy away from sensitive or embarrassing topics; rather, he delights in them. In poem 6.60, Martial describes his purpose:
Rome sings, lauds, loves my little books.
Every pocket and every hand hold me.
Look! He is red. She is pale. They are stunned. He gapes. She hates.
I want this: now my songs please me.49
Such candidness has invited criticism. J. Wight Duff summarizes these views, "We are not amused". He explains, "Martial's indecency palls no less than his adulation . . . The foulest epigrams force on the reader a resilient disgust as if from some sickening contagion".50 Until the Loeb Classical Library put out their most recent version of Martial (1992), Loeb translators rendered the "wholly impossible ones only in Italian".51 Defenders of Martial argue that Martial's poetry does not truly constitute obscenity. Goertz writes, "Martial isn't really obscene anyway--how can something that makes you laugh be obscene?"52 Gary Jennings suggests that "obscene" language derives its ability to shock from its tendency "to evoke empathic identification." He further explains:
"That is, any person can hear the word 'copulate' without a blush; it is dry, technical, devoid of any striking imagery. But the word 'fuck' seems to call to mind the act itself, complete with all the attendant psychosexual repression-tensions which the act inspires in the individual--feelings of desire, repugnance, enjoyment, shame, whatever . . . there is reason to believe that the person who is truly shocked by a four-letter utterance, and who is truly vehement in his loathing of it, is probably less stable emotionally than one to whom the word is no more than an impolite word."53
Regardless of opinions about what constitutes "obscenity" and what "belongs" in the public eye, Martial does write poems that poke fun at issues that modern American audiences do not yet consider appropriate for public consumption. This does not change the fact that Martial's "dirty" poems are often his most accomplished and funniest. Bovie perhaps says it best, "I think that the obscene epigrams . . .are like a drunken friend, welcome and embarrassing".54 That describes Martial perfectly--welcome and embarrassing.